Exciting things are happening in Mullica Township! Twenty-three years after our first (and only!) Community Build Project, the PineCone Zone, was designed and installed by volunteers, it's time to rebuild. We are grateful for the hard work of those volunteers and for the many years of enjoyment the PineCone Zone provided. Unfortunately, the playground has reached the end of its life and needs to be replaced.
The Recreation Association is partnering with the Township to revitalize the entire park.   Equipment for 2-5 year olds, 5-12 year olds, swings, independent play pieces and even an outdoor fitness area for our seniors will be included.
Our first phase was completed on November 2nd, 2019.  Thank you all who volunteered!
Our second phase was completed on September 19, 2020.  Thank you to our volunteers and to the Eastern Atlantic States Regional Council of Carpenters.  We received a $15,000 Dr Pepper – KaBOOM! Let's Play Grant toward the purchase of equipment for Phase II which includes a play structure for 5-12 year old children and stand alone topsy turny spinners.
We have received funding from the ACIA for the outdoor fitness area, and hope to begin construction in the early spring of 2021.
The pictures show what the project will look like when it's completed, as long as we are able to secure funding. We anticipate received grant money for a portion of the project, but are asking for donations to help meet our funding match.  To donate, mail a check, payable to "Mullica Township Trust Account", to Dawn Stollenwerk, Township of Mullica PO Box 317, Elwood, NJ 08217.
While Mullica Township is not a wealthy community, we are blessed with residents willing to donate their time and many talents to make Mullica a great place to live. Together, we are making great things happen!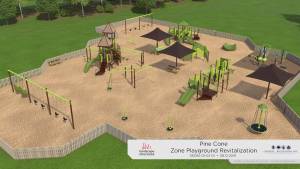 2019 Lets Play Construction Grant Press Release