J.P. Schmidt
2023-05-03T16:29:22-04:00
Mullica Township will have a FREE Rabies Clinic for Dogs & Cats on Saturday May 20, 2023.
The clinic will be held from 8:30a.m. to 12:00p.m. at the Municipal Building Complex (DPW Garage) located at 4528 White Horse Pike, Elwood, NJ 08217.
For those residents who need to also license their Dogs, the cost is $5.00 for a Spayed/Neutered Dog and $8.00 for Non-Spayed/Non-Neutered Dogs.
For any questions, please call 609-561-0064 x115.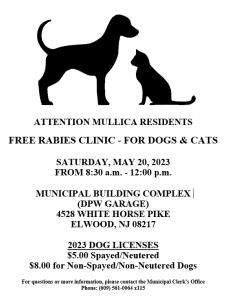 FREE RABIES CLINIC – Saturday, May 20, 2023 8:30AM to 12:00PM
J.P. Schmidt
2023-05-03T16:29:22-04:00